The procedures for adding and editing chord names are generally the same as for all types of text supported by Musician.
You can add chord names to your score using a variety of methods:
Many of the editing features for chord names are covered in the preceding General Procedures for Editing Text:
There are some special details about adding and editing chord names that differ from other types of text:

Manually typing chord names into a score.
If you are creating a score and want to manually enter the chord names before adding notes and other score elements, then you can type in the chord names first. To use this method of entering chord names, you can do the following:
1. Click on the Text palette
2. Then click the Chord Names button (or you can use the keyboard shortcut "Shift + C"; if you get the Clef palette, press "Shift + C" again)
3. Click in the score where you want to add chord names, and start typing.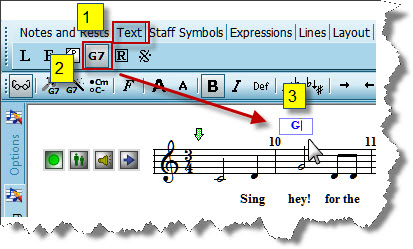 4. Hit the TAB key to advance to the next major beat, in the measure, or the first beat of the next measure, where you can enter the next chord name.

Adding chord names using the Chord Builder:
Musician's Chord Builder lets you see and hear the notes of a chord before adding the chord name to the score.
The Chord Builder can be found in the Text -> Chord Names palette
Clicking the Chord Builder button

(or using the keyboard shortcut "Shift + Enter") will open the Chord Builder dialog, as shown here (well, without all the annotations):

Copying and pasting chord names:
Musician allows you to copy and paste chord names between sections of your score, so you don't have to spend time separately entering repeating chord progressions.
Now the chord names that you copied and pasted will appear in the target region of your score.

Enharmonic spelling of chord names:
Musician allows you to change the enharmonic spelling of chord names. This allows you to raise the enharmonic spelling, for example, of a Bb chord to an A#, or other varieties of enharmonic spelling differences. A different enharmonic spelling may be more familiar to you or your band members, so you can change the enharmonic spelling of such chord names when printing out a score, fake sheet, or chord chart. For example, you may want to change an Fm to an E#m if you use barre chords for guitar, as the Em chord shape is a common minor chord barre shape.
1. In the score, click on the chord name for which you wish to change the enharmonic spelling.
2. Click the "Lower enharmonic spelling"

button.