This topic describes how you can change the style of a barline to a double, dotted, or dashed barline, or start-of-section or end-of-section barline.
For instructions in adding repeat marks to barlines, see Editing Repeats.
If you have imported a MIDI file, or made a MIDI recording, in which the barlines are out of alignment with the downbeat of measures, then you can shift the barlines, as described in Shifting Barlines.
You can split a measure by inserting a barline in the middle of it, as described in Splitting Measures.

To change the style of a barline:
| | |
| --- | --- |
| 1. | Select a barline by dragging the mouse cursor over it. A barline is usually so narrow that it is difficult to select it by directly clicking it. So, dragging the mouse over the barline is an easier way to select it. |
Musician will highlight the newly selected barline in blue, and will display the Barline Palette: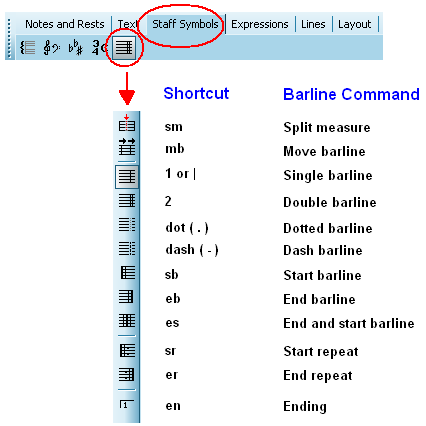 The Barline Palette will indicate the type of barline you have selected.
| | |
| --- | --- |
| 2. | Click one of the barline types in the palette, or type the keyboard short-cut. |
Musician will change the style of the selected barline(s) according to your palette (or shortcut) selection.
For explanations of other buttons in the Barline Palette, see Splitting Measures , Joining Measures, Shifting Barlines, Editing Repeat Marks, and Editing Endings.