Typically, a song has one part for each instrument and/or voice. To print each part, you can individually select each one and then use the Print command in the File menu. But there is an easier way.

To print several parts at one time.
| | |
| --- | --- |
| 1. | Choose the Print Parts command in the File menu. |
Composer will display the simple Print Parts dialog box. Initially, all parts of the song will be pre-selected.
| | |
| --- | --- |
| 2. | In the Print Parts dialog box, unselect any parts that you do not wish to print, by clicking the highlighted part name. Selected parts are highlighted, and unselected parts are not, as illustrated here: |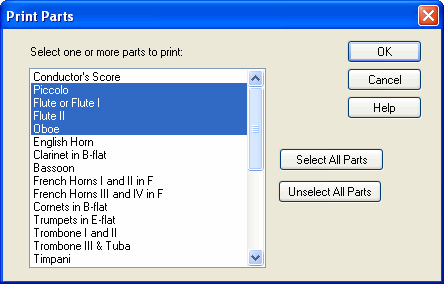 Composer will display the Print dialog box.
Note that the Print dialog box will not offer you the option to print a range of pages. The Print Parts command supports printing only of the entire range of pages of each part. For the same range of measures, each part can require a different number of printed pages. To print the parts for only a selected range of measures, use the View Measures command in the Measure menu.