Some MIDI devices-- software synthesizers or physical devices such as a sound-producing MIDI keyboard-- offer a standard set of General MIDI (GM) instrument sounds. More capable MIDI devices also, or instead, offer an extended set of instrument sounds in one or more MIDI banks. A MIDI bank is a collection of up to 128 different instrument sounds, commonly called MIDI patches. Also, a given patch in a MIDI bank may provide a "drum kit" of up to 128 different drum instrument sounds, each associated with a pseudo drum pitch.
MIDI banks and patches are identified with bank and patch numbers by default. Drum instruments are identified by pseudo drum pitch numbers by default. These numbers would generally be difficult for you to use when assigning instrument sounds to staves, because you would have to know that, for example, on your Roland JV-90 keyboard, the bank for MIDI controller 0 value 84 and controller 32 value 1, patch 12 is the "Thick Violas" sound. It will be much easier for you to assign an instrument sound to a staff by referring to the names of the banks and patches, such as the "Thick Violas" patch in the "Orchestral" bank of your Roland JV-90 keyboard.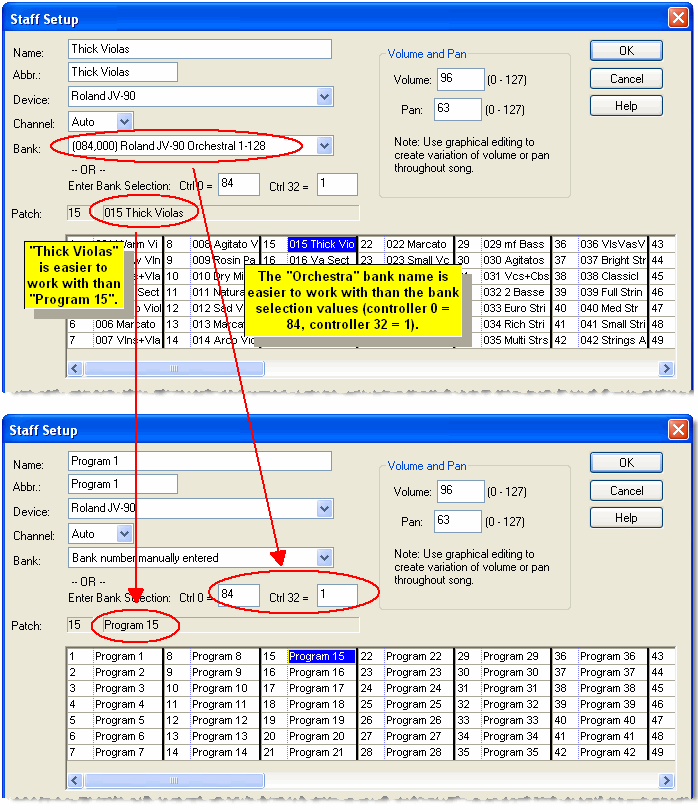 In order to offer you instrument names instead of bank, patch, and drum note pitches, Composer needs to learn what the instrument names are. There are two ways it can do this. The easiest way is for you find a Cakewalk(tm) Instrument Definition (.ins) file or Notation Software MIDI Device Description (.mdd) file for your particular MIDI device. That INS or MDD file will have the various instrument names for your device. You can quickly "import" the INS MDD file into Composer. The other, more difficult way, is for you to manually enter the instrument names yourself.

To import instrument names for your MIDI device:
| | |
| --- | --- |
| | Follow the instructions in the topic Quick MIDI Device Seutp for "setting up sound names for a device that has additional MIDI sound banks besides the General MIDI sounds." |

To manually enter instrument names for your MIDI device: