Notation <%PRODPOSESSIVE%> offers many tools for adding and editing chord names. The Chord Name Palette is included in the Text tab palette.
With Composer, you can add chord names as simple as: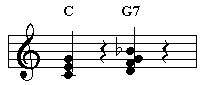 or as complex as:
Composer can also analyze the harmony in a song and automatically display chord names (transcribe chord names).
The topics that follow provide detailed descriptions of various procedures for adding and editing chord names: