Customize Your MIDI Files: Music Minus Your Part!
Use free MIDI files and Notation Musician to practice parts with accompaniment.
Did you know that you can take any MIDI file (and there are hundreds of thousands of free ones) and silence your instrument or vocal part, so that you can practice with accompaniment?
Use Notation Musician to find the songs you want to play, download the MIDI, and open it up. Musician transcribes the MIDI into excellent music notation for you. Then, simply use the "Mute" button for the staff that you want to play "live", and let Musician provide the accompaniment while you play your own instrument. Musician even turns the pages for you.
Notation Musician is software that offers a music practice experience similar to the Music Minus One(tm) music CDs by Music Minus One at www.musicminusone.com.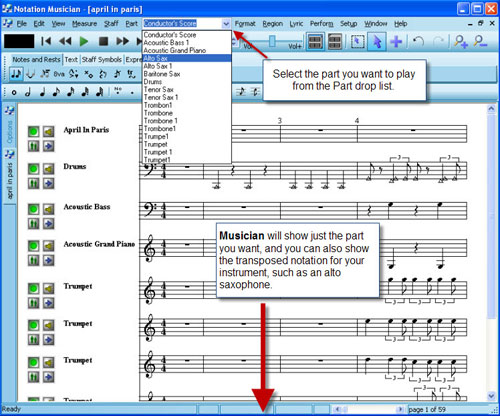 Using
Musician
you can:
Transpose just your instrument for easy reading, or the entire piece to fit your range.
Rearrange the piece to suit your abilities.
Add annotations such as rehearsal marks, playing directions and special symbols for high quality sheet music.
Change instrument sounds for parts to reflect your group or band and enhance your practice.
Set up practice loops, where you set the number of loops, the tempo, and other options to help you quickly learn your part.
Print high quality sheet music of your song for playing in other venues.