Converting Guitar MIDI files to Sheet Music
"I really love the product and I'm confident it will help me learn the guitar much quicker." - Al McCausland (read more)
Instead of buying guitar music sheets for non-copyrighted songs or compositions, let Notation Musician or Notation Composer help you find MIDI files on the Internet (see our MIDI Directory listing for guitar music), and then use Notation to quickly and accurately convert them to sheet music that you can print.
How you can print guitar sheet music from MIDI files
Find the song you want - Musician's built-in Internet browser helps you search for a MIDI file for the music you want. To get an idea of how many MIDI files are available on the Internet, take a look at our hand-collected list of guitar MIDI file web sites.
Open the file - Musician automatically downloads it, and quickly converts the MIDI file into music notation displayed on the screen.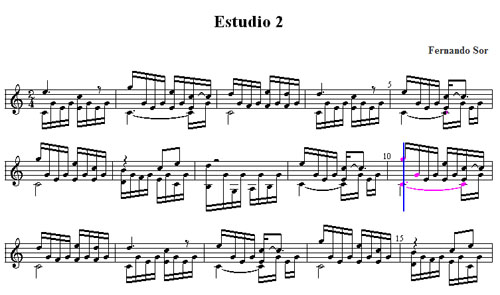 Play the file - the beat cursor helps you with time, and the notes highlight as they play, so you can see and hear what the song should sound like.
Print out the sheet music to carry with you for practice or performance.